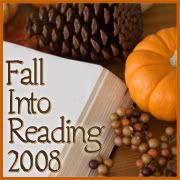 Ran across this on my friend Amy's
site who found it on Callapidder Days and I can't wait to start.

I LOVE reading, but it tends to be the first thing to go when time is short! It is so refreshing to lose myself in a book. I know I come away a better mommy for having taken a break.
I decided to check my shelves to see what I had to start reading, but after inspecting them it seems that everything is nonfiction, not that there is anything wrong with that, but a girl needs some fun stuff too. So I'm going to start my list with what I have and then go on a fun reading treasure hunt (suggestions welcome). I'll add some more as I come across them.
Non-fiction:
1.
Silent Tears
by Kay Bratt
2.
Be Joyful
by Warren W. Wiersbe
3.
Charlotte Mason Study Guide
by Penny Gardner
4.
Home Education
by Charlotte M. Mason
5.
How Much is Enough
by Jean Illsley Clarke
6.
Being a Great Mom, Raising Great Kids
by Sharon Jaynes
7.
Slightly Bad Girls of the Bible
by Liz Curtis Higgs
8.
Becoming the Woman God Wants Me To Be: a 90 Day Guide to Living the Proverbs 31 Life
by Donna Partow
9.
Waiting For Morning
by Karen Kingsbury
As you can see, none of this is exactly light reading. I am off in search of something to be read for enjoyment... HELP!